Mary Charleson, MBA, CSP is a marketing speaker, educator and strategist. She is the author of two books, Word of Mouth Mouse & Mobile and Five-Minute Marketing, each featuring tips for the time-starved business leader. Mary is a member of the Canadian Association of Professional Speakers and the Global Speakers Federation. She is one of fewer than 12% of speakers globally who hold the designation of CSP (Certified Speaking Professional), the international measure of excellence for professional competence and proven experience. Mary's career spans over 20 years in media, advertising and education. She has been a popular marketing instructor at City University of Seattle, NYIT (New York Institute of Technology), Capilano University, Acsenda School of Management, and guest lecturer at UBC Sauder School of Business. Mary has worked with hundreds of business and organizations to improve their marketing efforts through consulting and speaking. A contributor to Business in Vancouver since 2002 and a monthly marketing columnist for the Huffington Post, her work has also been published in the Globe & Mail, the Toronto Star, the Vancouver Sun, Marketing Magazine, Strategy, Zoomer, Cottage and Outside magazine.  She is frequent guest on CBC TV news offering her opinion on marketing and business trends. CBC-2014 Marketing Fails, CBC-2015 Future Shop closure
Mary has also recently launched a new business venture called CarryOnQueen.com. CarryOnQueen.com brings together a community of READERS, WRITERS and TRAVEL COMPANIES united in adventure travel for fun-fit-females, many in their 50s, who pursue authentic, meaningful experiences with friends, a partner, family or solo – always leading the way, and always traveling light. An extension of her passion for writing and travel, she has started to accept speaking engagements from the travel sector – both from a sharing travel experiences perspective, but also advising travel companies, writers and bloggers about best practices in marketing and media. If that angle interests you, contact her through mary@carryonqueen.com
Mary Charleson, CSP is a member of the Canadian Association of Professional Speakers and the Global Speakers Federation. View her CAPS profile here.
Download Mary's speaker sheet HERE
TOPIC #1
Think Like a Media Mogul: How to leverage your brand in multiple media channels

This session will introduce the concept of thinking like a media mogul by using owned, rented, earned, embedded and paid media for content marketing. It will focus on the use of your owned media – the stuff you control and produce content for such as e-newsletters and blogs, and explore the use of rented media – broadcast and social media that you decorate as your own, use to engage, but are ultimately a space where the landlord controls the rules. This presentation explores in detail the use of platforms such as Facebook, Twitter, Instagram and LinkedIn as tools for broadcast and engagement in this capacity. You will also learned about earned media – how to get free publicity, and embedded media – how to become a published or broadcast authority using the reach of an established media player like the Huffington Post, CBC or the Globe and Mail. And finally, we round out you strategy with practical ideas on utilizing paid media to further leverage your marketing. You will learn the top 3 reasons why content marketing is critical these days and how to best approach it with a solid strategy. Learn to punch far above your weight and budget using content marketing, and leveraging all media platforms.
The presentation can be customized with examples drawn from a clients industry to really make the content meaningful and actionable for your team.
Learning outcomes:
Learn how to approach social media with a strategy that achieves your goals and doesn't waste time.
Learn how to leverage word of mouth and storytelling in your media efforts.
Gain insights to maximize your free publicity.
Learn how to use various media and marketing efforts to create community with your customers.
Download presentation sheet HERE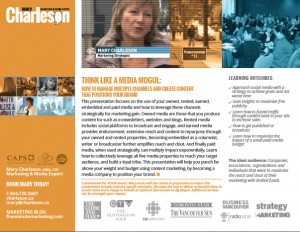 "I can't thank Mary Charleson enough for being a keynote speaker for WPN Bellingham. Our group of professional women was thrilled with her presentation. Not only did she customize it specifically for us, she also delivered excellent, usable information that we could apply to our businesses that same day. Mary is a media and marketing expert and she was savvy enough to leave the jargon at home and really speak to us in layman's terms. We've already had requests to have her back." – Jessica Renner, Speaker Chair, Womens Professional Network Bellingham
"Mary's presentation got everyone thinking of how the power of word-of-mouth is amplified by word of mouse and mobile in the digital age. Rich with compelling, real-life examples, Mary's presentation reflets her highly attuned perspective on how an organization's reputation is built or broken by the way stakeholders interact with its brand." – Victoria Miles, Conference Chair, Canadian Association of Communicators in Education
"Our team took some great ideas away and we're already using them for our trade show next week and an event at the end of the month." – Michael Drake, Director of Sales, Tourism Vancouver Meetings & Conventions, International/Canada
"Many thanks for the excellent presentation on how to leverage our media for marketing. Judging by the note takers during the presentation there was some keen interest." – Henry Walthert, Executive Director, Wood Preservation Canada
TOPIC #2
5-Minute Marketing: Tips, trends and takeaways for the time-starved
Mary inspires business leaders to understand trends and generate new ideas to make marketing more effective. Pithy, often irreverent, but never short on actionable insights, information is presented in a compelling and memorable way; through storytelling, research, and in short 5-minute segments on a variety of marketing topics. After gaining insights on the challenges that a business or industry is facing, Mary selects a series of 5-Minute Marketing insights to meet the client's specific needs, while considering current market trends and opportunities. Tired of other speakers loosing your audience after the first 5 minutes? The unique 5-Minute segment structure of Mary's approach keeps even the most attention deficit challenged audiences alert and ready to put insight into action!
Constantly updated with insights from Mary's marketing blog www.fiveminutemarketing.com and her popular weekly e-newsletter, this dynamic audio and video rich presentation can stand alone as a keynote, or be modified for a breakout session or workshop. For smaller groups Mary uses a gamification approach, allowing participants to select the material and order that it is presented in a fun and memorable way.
Here is a sample of marketing vignettes that can be incorporated into your customized program:
Tracked targeted and tired: Consumers go private in public. What other trends could impact your industry?
Social media mistakes: Lessons from top global brands.
Word of mouth mouse & mobile: Leveraging your stories for success.
Social media: Going viral for all the right reasons.
Branding: Make a name for yourself before someone else does.
Going mobile: What you need to know about the future.
Disruption: Learn to love it.
The path to purchase: adapting to change.
Creative wall of fame & wall of shame: Learning from winners & losers.
Bought, earned and owned: Leveraging your media.
Download presentation sheet HERE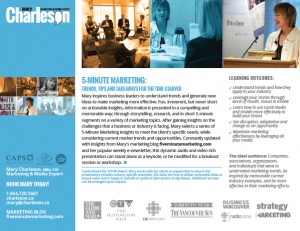 "Mary is an engaging and dynamic speaker whose presentations on marketing and sales are entertaining and content-rich. When we featured Mary as a speaker at a marketing event, our audience was very diverse, yet we were delighted at how relevant she made marketing trends and tips to everyone. Mary GETS it – she has a solid grasp of how marketing works, and she is particularly adept at communicating in a clear, simple and convincing way. Her passion for her industry shines through in her speeches. We were impressed with her authentic, personable approach and her broad expertise and examples across the marketing landscape." – Gail Tibo, Peter Legge International Institute of Sales Excellence Presentation Series Chair, Principal at Incisive Marketing
"Mary has a knack of conveying marketing concepts in a fun way, through real-life examples, videos, and anecdotes for our clients at Small Business BC. She is always ready to address questions, tailor responses, and conjure up relevant tips, thereby demonstrating her expertise on the topic." – Leo Chow, Education Services Manager, Small Business BC
"Mary has great knowledge of marketing and media that she shares in a compelling way with business audiences. Her message resonates particularly well with entrepreneurs who are looking to leverage their efforts for maximum impact with minimum expenditures." – Cathy Kuzel, Chair, The Connected Woman
The links below show a series of video examples for Mary's "5-Minute Marketing" current content. Each of the vignette's represents a sample of segments that can be mixed and matched to put together a customized program for a client depending on their needs and interests. Typically for a breakout or keynote Mary would link 6 of them together. Since she is always creating and writing new material (often inspired from her weekly enewsletter and blog), content can very fresh, insightful and current. There are 6 sample vignette's below plus a sample full length keynote or break out that shows how content is put together. The full length keynote also shows Q&A.
Five-Minute Marketing: We are all connected
Five-Minute Marketing: Disruption
Five-Minute Marketing: Content is king but creating community is queen
Five-Minute Marketing: Make your message sticky
Five-Minute Marketing: Going private in public
Five-Minute Marketing: Word of mouth
Link to full length KEYNOTE "Five-Minute Marketing" presentation
_________________________________________________________
Contact Mary at 604-720-5607 or email mary@charleson.ca to discuss your specific speaker requirements. This session can be presented as a stand alone keynote, or modified for a breakout session or workshop format.
_________________________________________________________